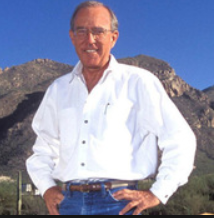 "There is truth in following your dreams. There is truth in believing in yourself. "
Today John Riggs stopped by to drop off some research materials for Red Wing Ranch, and we got to chatting under my pomegranate tree, and as always he blew me away.  These comments were not rehearsed, they just bubble up out of John. This is really how he talks.
John is building an eco-community in Willcox, Arizona centered around a vineyard, winery, equestrian center, resort and horse rescue ranch. Of the 1,000 acres set aside for this project, 75% will be dedicated to wildlife preserves and corridors. Equestrian trails lead out into the Chiricahua Mountains, and grass fed beef will graze the mountain pastures surrounding the project. The remaining acres will be developed into a string of smart eco-villages, some in traditional but friendly cul-de-sac neighborhoods, and some as cohousing neighborhoods, where everyone participates in growing food and maintaining their community.
What I learned today is that John grew up outside of Willcox on one of the many Riggs Family ranches in southern Arizona. His mother contracted polio when he was 7. Determined to get an education, she pursued a degree in architecture from her wheelchair, remotely.  And when I say 'remotely' I mean there was no transportation, there was no internet. His mother educated herself through correspondence courses. John learned drafting, drawing and building by drawing and playing with Lincoln Logs at her feet. "I always liked doing things with my hands," he said. "And Mom encouraged that in me."
The family ranch was 30 miles outside of Willcox, so his mother designed a home she hoped they would build in Willcox by the time John was in high school. But she passed away when John was 12, and the house was never built. John attended a one-room schoolhouse through eighth grade, and he was the only student in his grade. When he was ready for high school in Willcox, he stayed with an aunt "on a somewhat irregular schedule."
When I said oh gee, I remember riding the bus to school from the countryside, he shook his head and said, "There were no buses. The elementary teacher's husband had a station wagon and he would drive around and pick us up."
John remembers clearly that the high school library had one book on architecture. Just one.
"I already knew I wanted to be an architect," he said.  "I was among the freshman class of the first School of Architecture at Arizona University.  There were 54 students in that class, and 7 of us graduated."
John founded the first Tucson architectural firm, Architecture One. He has designed and developed over 2,000 properties, from homes to university complexes. His design style reflects and honors the Tucson desert and its sky islands, always incorporating elements of the land, sky, botany and wildlife that he knows and loves.
John has been working on his plan for Red Wing Ranch for 10 years. He has a personal and abiding passion for preserving his family heritage and a way of life that many have forgotten.
The Tejido Group at the University of Arizona has created a gorgeously illustrated hardbound report for the first cluster of housing, called The Mare Pasture.  Housing development plans include edible landscaping, community gardening, hydroponic farming, wetland preserves, footpaths, solar-powered golf cart transportation, solar-voltaic power, waste water processing through wetlands, and protection of  Native American ruins on the site.
I think we can all safely assume that if John Riggs says this is his dream, it will come true.