Category:
Marketing Your Business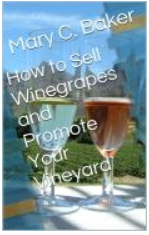 It's that time of year again.  The vines are stripped bare, and the fields are muddy. Time to shop for new equipment, catch up on accounting and plan for this year's vintage and harvest.
Vineyard owners rely on contracts with wineries to sell their fruit.  But sometimes a winery owner will just walk away from the contract, leaving the vineyard owner holding ripe fruit and in a panic to sell it.  Sometimes a vintage is surprisingly abundant and a vineyard owner ends up with way more fruit that he has contracts for.  And it's not that easy to find last minute buyers – winery space is limited, and so are winery budgets.  Most purchasing decisions are made in the spring, so even if the vineyard owner discounts his grapes heavily, he may not be able to sell them before they raisin or rot.
That's why this would be a very good time for all of your vineyard-owning friends to get a copy of my guide to marketing and selling and winegrapes.  How to Sell Winegrapes and Promote Your Vineyard is only $2.99 on Kindle and worth every penny.  I guarantee you will find ideas and advice in here that you won't find anywhere else.  Even if you think you know your stuff, you may find a few surprises in this guide.
This short, snappy guide to marketing your grapes is distilled from my 25 years of experience in the wine industry.  I have worked for big brands like Justin and Wild Horse, and I have consulted for small vineyards and wineries on banking, finance, hospitality, and marketing.
And don't forget to check in to the annual vintage threads in the Cellar Rats subforum at WineBerserkers!  Whether you are in the biz or just an avid wine fan, you can follow real time winemaker and vineyard reports from budbreak to harvest.
Email is a free and easy way to reach a lot of people with your marketing message. So naturally there's a lot of competition out there for your customers' attention. How can you make an impact in a world of 8-second attention spans?
What Is an Email Campaign?
First, let's look at what an email campaign really is. Some marketers refer to individual emails as "email campaigns." But experience shows that a carefully planned and timed series of related emails gets better results. After all, you wouldn't expect a presidential candidate to give one great speech and take off for the rest of the campaign. Experienced marketers refer to individual sales pitches as an "email blast," and a multipart blitz as a "campaign."
Multipart Campaigns  Keep Your Brand Top of Mind
People need time to warm up to a new company or idea, so creating just one email blast to introduce your company may be a waste of time and energy.  And for product or service-oriented marketing emails, the timing and delivery may not be perfect for every single customer.
According to Litmus, even if your customer has opted to receive emails from you, they spend less than 8 seconds deciding whether or not to read it. So no matter how well-crafted your first email might be, it may still end up being ignored or deleted because it arrived at a time when your customer was busy with other things. That's why it's better to send a series of emails on the same topic, while making sure to keep each one engaging and brief.
Newer customers will be at a different place in the buying cycle than older customers – meaning that some are still getting acquainted with the company, some may be ready to take the plunge when enticed with offers and coupons, and others may be ready to upgrade.
It's almost always more effective to plan a stream of shorter, well-executed emails — perhaps 6 to 10 of them, spaced a week apart — that introduce the company, and then offer tidbits, stories, insights, special offers, and discounts. Keep each email short, include bright visuals, clear pricing, and actionable visuals, like  "order" or "learn more" buttons.
Here are some examples of how a multi-part campaign can be used to build your business: Continue reading