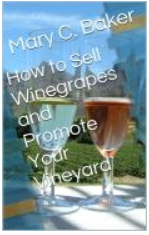 It's that time of year again.  The vines are stripped bare, and the fields are muddy. Time to shop for new equipment, catch up on accounting and plan for this year's vintage and harvest.
Vineyard owners rely on contracts with wineries to sell their fruit.  But sometimes a winery owner will just walk away from the contract, leaving the vineyard owner holding ripe fruit and in a panic to sell it.  Sometimes a vintage is surprisingly abundant and a vineyard owner ends up with way more fruit that he has contracts for.  And it's not that easy to find last minute buyers – winery space is limited, and so are winery budgets.  Most purchasing decisions are made in the spring, so even if the vineyard owner discounts his grapes heavily, he may not be able to sell them before they raisin or rot.
That's why this would be a very good time for all of your vineyard-owning friends to get a copy of my guide to marketing and selling and winegrapes.  How to Sell Winegrapes and Promote Your Vineyard is only $2.99 on Kindle and worth every penny.  I guarantee you will find ideas and advice in here that you won't find anywhere else.  Even if you think you know your stuff, you may find a few surprises in this guide.
This short, snappy guide to marketing your grapes is distilled from my 25 years of experience in the wine industry.  I have worked for big brands like Justin and Wild Horse, and I have consulted for small vineyards and wineries on banking, finance, hospitality, and marketing.
And don't forget to check in to the annual vintage threads in the Cellar Rats subforum at WineBerserkers!  Whether you are in the biz or just an avid wine fan, you can follow real time winemaker and vineyard reports from budbreak to harvest.