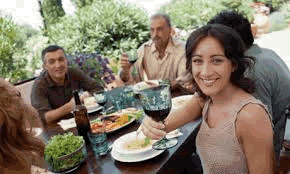 Just as a vanilla-colored Queen Anne cherry differs from a blood red Bing, winegrapes vary in color and flavor. Each type of grape has a distinctive flavor, and depending on where and how it's grown, certain characteristics of the grape will become more pronounced. Winemaking techniques will also affect flavor, adding aspects of spice, pastry, or butter, and the amount of time a wine spends in oak will impart additional aroma and flavor to the fruit.
Basic wine varieties
White wines
Malvasia Bianca—A light crisp wine with floral aromas and a core flavor of grapefruit. Good chilled and served with salads or spicy seafood.
Sauvignon Blanc—A light wine with grassy aromas like fresh-mown hay or clover, and flavors of tart apple, kiwi, or citrus. Very good with summer time appetizers, green salads, pasta salads, and minimalist seafood.
Pinot Blanc—Similar to a chardonnay, pinot blanc has a deep blond color and creamy mouthfeel with a definite pear flavor.
Chardonnay—A pleasant workhorse of a wine, chardonnay has fruity aromasand a core flavor of apples. It's made in a range of styles from those with minimal oak and bright fruit, to heavy oak or butter styles. It goes with a wide range of food, from hors d'oeuvres and salads to light meats and spicy pasta dishes.
Viognier—A tropical powerhouse, viognier is intensely fruity, and sometimes has a grassy finish. It generally has a high alcohol content, which in turn gives the wine a heavier mouthfeel that also appeals to red wine drinkers. The combination of high alcohol and fruit salad flavors sometimes makes the wine seem slightly sweet, even when it is technically dry. Served chilled, it can stand up to very spicy dishes.
Other white wines to try include pinot gris, roussanne, marsanne, and semillon.
Red wines
Pinot Noir—Although lighter in tannins than other red wines, pinot noir is packed with flavor. Its core flavor of pie cherry is accompanied by flavors and aromas of mushroom, hay, cinnamon, pastry and oak. Its gentler mouthfeel and intriguing flavors make it a versatile food wine, good with a wide range of dishes.
Sangiovese—A native of Italy, sangiovese can be slightly heavier than pinot noir, but also has a core flavor of pie cherry or wild berry, with earthy tones and a hint of spice. It ranges in style from light red and slightly tart to heavy spice-and-earth wines. Some producers blend in cabernet to give it mainstream appeal, but I love its brick red color and dancing gypsy flavors.
Merlot—A popular red wine with food, merlots range from light fruity styles to heavy, mountain-grown fruit with intense color that make deep, plummy wines. Softer and fruitier than cabernet and syrah, merlot is a great red wine for sipping and good with a variety of foods.
Zinfandel—The wild child of America, zinfandel is not widely produced in Europe. Its history is shrouded in confusion, but there is nothing confusing about its flavor. It has a standout core of raspberry and black pepper. Styles range from old vine zins with a brick red color and heavy peppercorn, to purple powerhouses with jammy plum flavors and very high alcohol. Generally served with red meats, grilled vegetables and pungent cheeses.
Cabernet Sauvignon—Cabernets and syrahs are heavier reds that age gracefully. Cabernet has a luscious mouthfeel with a core flavor of black cherry or plum, and hints of licorice, herbs or violets. The best cabernets are not over-oaked, so you can taste the layers of flavor and enjoy its intriguing bouquet. Its rich, delicious flavors are great for sipping and relaxing, and also excellent with red meats, rich sauces and potatoes.
Syrah—Machismo flavors of blueberry, beef, smoke and licorice, this robust red wine is great with hearty cuts of meat, grilled lamb, and blue-veined cheeses. Australian producers call it shiraz.
Other popular red wines include cabernet franc, petite syrah, mourvedre, grenache and barbera.
Sparkling wines can be made from either red or white varieties, and sometimes red and white are blended together to make a sparkling rosé.  Inexpensive and delicious Italian sparklers can be found in most wine stores — ask for Lambrusco (red) or Prosecco (white).